I have an item I'm planning on putting up on eBay, but I thought I'd come here first and see if any of youse would be interested before I did.
As some of you may know, I did the album cover artwork for all 3 Low Budgets albums. After the first album I also painted a tour poster that ended up not being used.
So up for sale is the ORIGINAL PAINTING for the Low Budget's tour poster. It's 11"x17" on cold pressed Strathmore watercolor paper. It's been stored flat in a pet and smoke-free environment since it was created in 2003. I'll roll it for shipping, if need be.
If you're interested, send me an email at
donno13@hotmail.com
and we can talk price. If not, I'll be putting it on eBay next week.
Pic: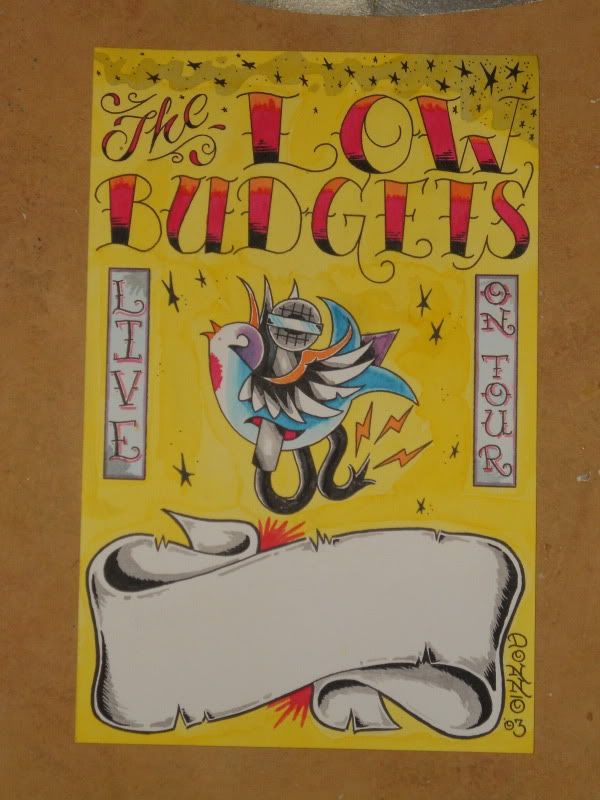 Rock on,
Donno
Oh, also, I have a few other (non-DM) items I'll be putting up- a rare English TMBG 10" single, autographed by John and John, some Sheppard Fairey (sp?) signed and numbered prints from the X and Henry Rollins Band tour (2006?), some Rocky Horror Picture Show memorabilia, etc... If anyone here is interested, I'd rather sell it to you (comission free) than some stranger on ebay...